Forward, ShaSha Co., HQ:
Introducing Valerie, our new blogger who will be posting weekly! To familiarize her with our product lineups we loaded her cupboards up with every line! Her 'discovery' through fresh eyes we hope resonates with new customers to ShaSha Co. on what makes our product and organic processing a step above the rest.
—————————
I went a little ShaSha shopping crazy at the ShaSha Co. store at located at their Toronto head office. While everyone knows and adores ShaSha's famous Snaps, I was interested in checking out some of the other products and having a healthy, delicious cooking sesh at home.
The product that caught my eye was the Certified Organic Spelt Pizza Crust. Pizza is one of my all time weaknesses. However, bleached white flour crust from delivery places always leaves me feeling weighed down, bloated and let's be honest, regretful. And, it's really no question why. Simply Google "pizza crust ingredients" alongside the name of your favourite delivery place and you will find a bunch of things you cannot pronounce.
Now let's look at the ingredients in the ShaSha's Certified Organic Spelt Pizza Crust: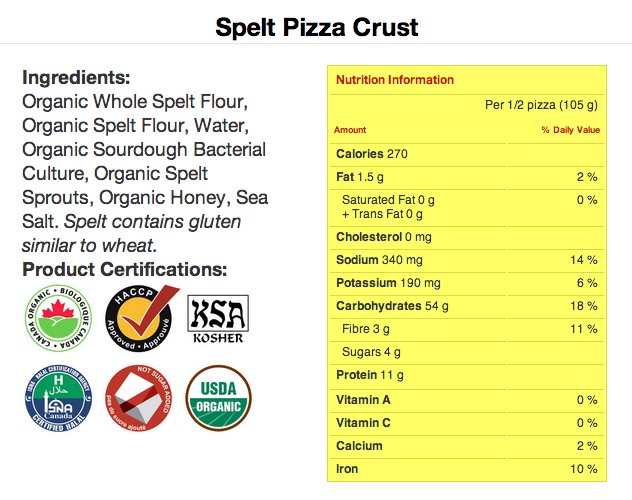 8 ingredients that you can pronounce vs. something you need a degree to decipher. Frightening.
It's healthy! But what does the Certified Organic Spelt Pizza Crust taste like? How does it perform?
I made two. One vegetarian with onions, olives, tomatoes, spinach, green peppers and one with chicken, tomato, basil.
The results? Delicious! The pizzas themselves took about 15 minutes to cook and the ingredients just needed to be chopped (the chicken was already cooked) so in total, the experience to create 2 healthy and delicious pizzas took under 30 minutes, the same as a delivery promises with no tip required.
I ate almost an entire one. They were both wonderful. The bottoms were crunchy and the crust itself rose slightly for a delicious texture and effect.
The verdict? ShaSha Certified Organic Spelt Pizza Crust makes delicious, tasty pizzas that won't make you feel heavy and weighed down. Enjoy!
Posted by Valerie Stachurski